The PJ-Style body style is a popular design choice for electric bass guitars. PJ stands for "Precision and Jazz", which refers to the two types of pickups typically used in this setup. The Precision-style pickup is a split-coil pickup located near the neck of the guitar, while the Jazz-style pickup is a single-coil pickup located near the bridge.

The combination of these two pickups provides a wide range of tonal options for players, making the PJ-Style a versatile choice for a variety of playing styles and genres. The Precision-style pickup produces a warm, full-bodied tone, while the Jazz-style pickup delivers a brighter, more articulate tone. When used together, players can achieve a balanced and dynamic sound that's ideal for a variety of musical styles.

In terms of body shape, the PJ-Style is generally similar to the classic Fender Precision bass, with a contoured body shape designed for comfort and playability. The body is often made from high quality woods, such as basswood or alder, which provide excellent resonance and sustain.

Thus, the PJ-Style body style is a popular choice among bassists due to its versatility and balanced sound. Whether you're a beginner or an experienced player, a bass guitar with a PJ-style pickup setup can provide a wide range of tonal options and help you achieve the sound you want.

Beginner PJ Style Bass Recommendation: Donner DPJ-100 PJ-Style Electric Bass Guitar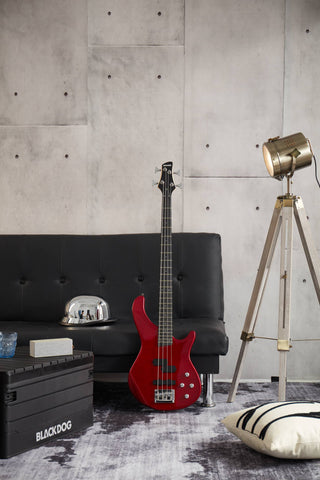 Constructed with a poplar body and AAA Canadian maple neck, the DPJ-100 PJ-Style Bass features a PJ-style body with a gloss polyurethane finish. The laurel fingerboard is adorned with pearlescent dot inlays and features 24 medium jumbo frets. The synthetic bone nut and offset 5-bolt neck construction complete the bass' impressive characteristics.

The DPJ-100's premium black closed pickup with active preamp level provides added strength and stability while playing. The slim "C" neck profile is designed for comfort and performance, with a smooth, satin back. The special finish of the matching headstock adds a touch of elegance to the overall look of the bass.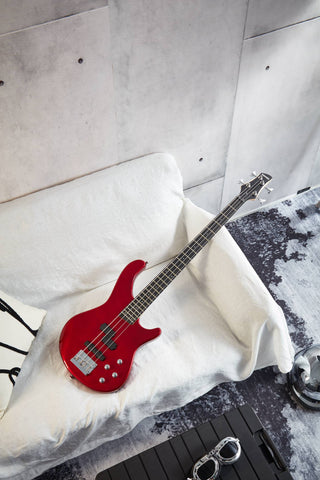 The DPJ-100 controls consist of two volume knobs and two tone knobs for each pickup. There is no switching, because the configuration is SS. The bass also features an active sealed split single-coil middle pickup and an active sealed J-style single-coil bridge pickup.

The DONNER Accu-Casted 4-Saddle bridge and DONNER sealed bass tuners with ear-shaped knobs provide reliable hardware for the DPJ-100. The bass comes with a gig bag, guitar strap, guitar cable and two Allen keys. The strings are Donner nickel plated steel with .045-.105 gauges.
Video
Overall, the Donner DPJ-100 PJ-style electric bass guitar is a versatile, high-quality instrument perfect for both beginners and experienced bass players. With its great sound and build quality, it's sure to provide years of enjoyment for players of all skill levels.