Donner Introduces the Donner Professional Electronic Drum Kit DED-400, complete with 5 drums, 3 cymbals, 25 preset drum kits, 400 built-in sounds and 50 drum kits. Additionally, this package includes a comfortable drum throne, drumsticks, headphones, and an audio cable.
The Donner Professional Electronic Drum Kit DED-400 is a premium kit designed for drummers who demand exceptional quality and versatility. With its 5 drums and 3 cymbals, including high-quality pads and responsive triggers, you'll experience the feel and response of a traditional drum kit, while enjoying the benefits of electronic features.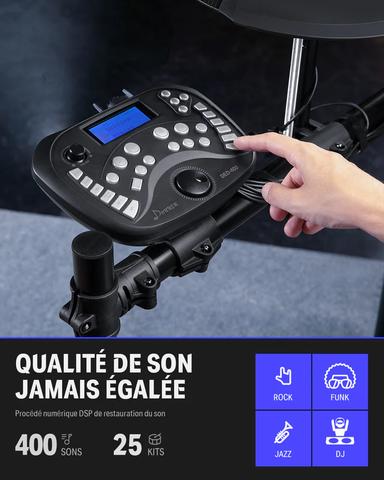 Featuring 25 preset drum kits, the DED-400 offers a diverse range of sounds suitable for different musical genres. Whether you like rock, jazz, pop, or any other style, you'll find the perfect drum kit setting to complement your playing style.
With 400 built-in sounds, this drum set provides an extensive library of drum samples and percussion instruments, ensuring you have a huge range of sounds and textures at your disposal. From classic drum sounds to unique and experimental samples, you can explore a wide range of sonic possibilities to elevate your drumming.
Additionally, the DED-400 offers 50 customizable drum kits, allowing you to create and save your own unique drum and cymbal combinations. This feature allows you to customize your drumming to suit your preferences and artistic vision, making every performance truly personal.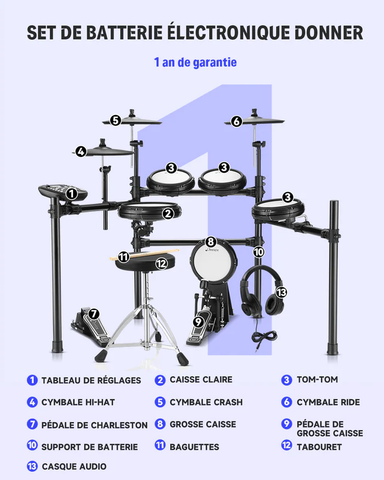 In addition to electronic drums, this pack includes a comfortable drum throne for extended playing sessions, drumsticks for immediate use, headphones for private practice or recording, and an audio cable for connecting to devices external devices such as speakers or recording equipment. This comprehensive package ensures you have everything you need to start playing and enjoying your drumming experience right away.
The Donner Professional Electronic Drum Set DED-400 , along with the Drum Throne, Sticks, Headphones, and Audio Cable, offers an all-in-one solution for drummers looking for a high-quality electronic drum experience. Whether you're a beginner or a seasoned professional, this kit will exceed your expectations and inspire your creativity.