There Donner DMT-100 is a 39 inch solid body electric guitar with a metal finish. It features a bolt-on neck construction with a maple wood neck and Indian laurel fingerboard, providing a comfortable playing experience. The guitar is also equipped with a classic HH pickup configuration, giving you a wide range of tonal options to explore.

Micros HH High Out 
The Donner DMT-100 features a classic HH (humbucker-humbucker) pickup combination, which provides a wide range of tonal possibilities for guitarists to explore. The humbucking pickups in this guitar are specially designed to reduce unwanted hum and noise, allowing for a clearer, more dynamic sound. The HH pickup configuration gives the DMT-100 a powerful and punchy sound, making it well suited for heavier genres of music. like rock, metal and blues. The pickups can be easily adjusted using the guitar's tone and volume controls, allowing you to shape your sound to your liking.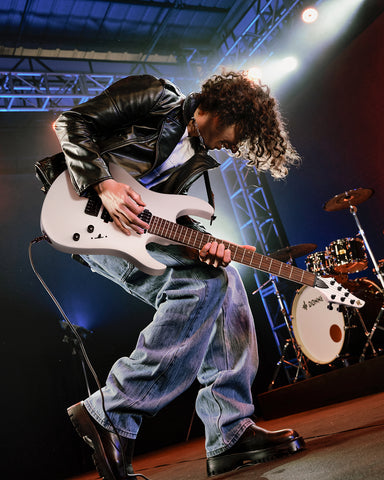 Angular corner design
The Donner DMT-100 Electric Guitar features a sleek and modern angular design, giving it a unique and eye-catching appearance. The body of the guitar is crafted from solid basswood, a lightweight and durable material that helps create a well-balanced instrument. The angled corners of the DMT-100 provide a comfortable playing experience, allowing you easy access to all neck frets. The corners are also designed to give the guitar a bolder and more contemporary look, which sets it apart from other electric guitars on the market.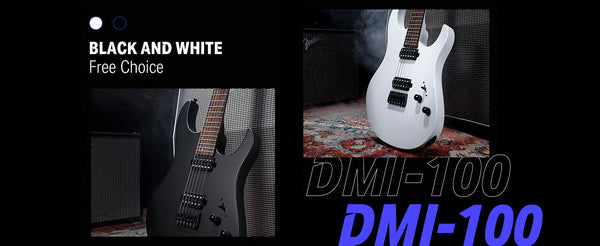 Simple but wild
Classic black and white, highlighting the simple aesthetic. The paint coating method of the guitar body is very wear-resistant and scratch-resistant. No need to worry about scratches, scars and maintenance. The angled wedge design extends across the entire body of the guitar. Whether you are a beginner or a seasoned player, the DMT-100 will make you the most aggressive core on the scene.

Accessories right out of the box
A string damper, original Donner design guitar bag, cable, strap and full set of strings. These accessories are all included with the Donner DMT-100 Electric Guitar right out of the box, making it easy for you to start playing and enjoying. your new instrument immediately.

Video
Whether you are a beginner or an experienced player, the Give DMT-100 is an excellent choice for anyone looking for a reliable and versatile electric guitar that delivers high quality sound.